Sometimes, you gotta stop hearing all that bullshit. Your options may be limited to ignoring all that bullshit, or perhaps
turning it down a tad.
One can simply let that bullshit slide, but let's be honest with ourselves.
You may have to turn off that bullshit.
I've been buying quite a few shitty comics, and putting some comics I hate on pull simply for the purpose of insulting them and letting people know what's up. It's nowhere near the level of dedication AJ and Bale have put into this little endeavor, but I'm trying to get started.
That said, it can't be all about the crap here. I feel we'd be doing you a disservice by only showing the worst. So here's something I think you'll agree is fantastic, and I hope you'll put your comics dollar towards it:
BLACK ADAM: THE DARK AGES
(OR: BLACK ADAM FUCK YOU I'M BLACK ADAM MOTHERFUCKER ROOOAAAAGHHHH)


If you have no prior knowledge of Black Adam aside from 52, this book is perfect. I had no fucking clue what was up with the Marvel Family, his association with the Suicide Squad or the JSA.
I still adore it.
Teth Adam is a man who has been fucked. Hard.
Imagine, if you will...having it all. Until the Four Horsemen of the Apocalypse that were manufactured by mad scientists on a Mad Scientist Island kill your family. One of them gets loose and runs of, so you flip the fuck out and kill an entire goddamned country.
Somewhere along the line you lose your awesome power to kill everything and you now live in hiding because you're the biggest killer fuckin' ever.
His motivation in the mini-series isn't redemption. He simply wants to resurrect his dead wife and live out his days with her.
To do so he will have to be the biggest asshole known to man.


Peter J. Tomasi and Doug Mahnke weave this manly tale of revenge wonderfully. I wish Marvel had fifteen of these dudes cloned and primed to write every mainstream title.

The story begins with Teth laying shit out for you, (the JSA bits are lost on me) and promptly jumps to the here and now.

Before Teth can start his brutal quest, he must become unrecognizable to a world that wants his head on a pike. Plastic surgery isn't an option, so he opts to get beaten in the fucking face for two whole fucking days.


CLICK THE BELOW PICTURES FOR PURE, UNADULTERATED AWESOME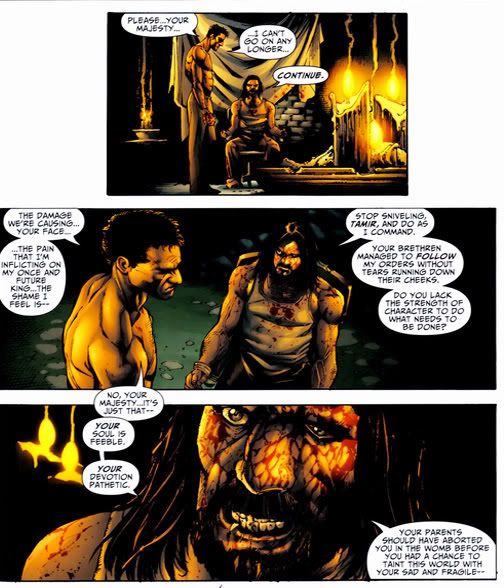 Oh God. So many awesome moments in this mini-series.
For example, when Teth leaves the Lazarus Pits after unsuccessfully trying to bring back Isis.
OH FUCK GIANT YETI!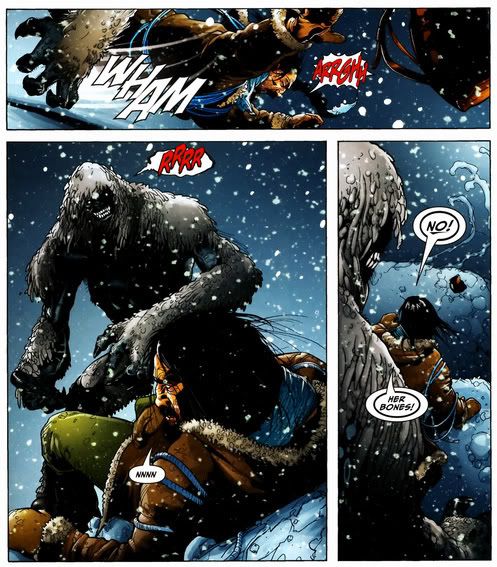 Click to Enlarge
Wait a second, motherfucker! You leave my dead wife's bones out of this shit or I'll be forced to
RAAAAAGGGGHHHH!!!!!!